Expertise
Our problem-solving expertise spans multiple domains of practice, disciplines and industries.
Design Thinking, Lean, Agile
We combine methods and deliverables from all three of these approaches, as each has something to offer when doing new product innovation. Design Thinking's opportunity discovery based on deep qualitative research. Lean's hypothesis-based drive toward finding product/market fit. Agile's focus on prioritization, customer needs, analytics, and nimbleness. Collectively these bring together the essential perspectives of design, marketing and engineering.
Financial services & fintech
Money and investing are deeply personal, rife with strong emotions, and one of the trickiest things to help people get better at. Much of the financial services business is getting commoditized, and there's a generational shift underway in attitudes about spending and investing. We have deep experience doing digital transformation and customer experience re-invention in the financial services sector (particularly around investing and retirement/financial planning).
Is your current customer journey a mirror of your org chart, warts and all? Is it delivering the desired satisfaction, competitive differentiation, and pull-through? Having a clear picture of your customers' needs as they interact with your company is a crucial step in building a satisfying experience. What are your customers trying to achieve, what's stopping them, and how are they feeling? And how are you facilitating (or hindering) them?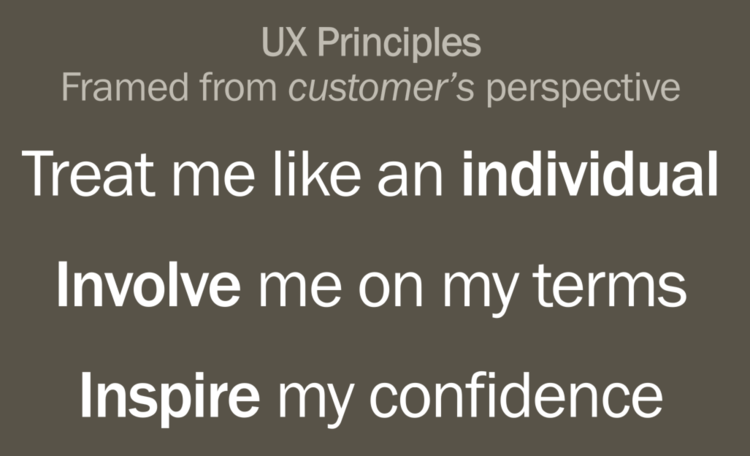 Crafting a mission and principles
A well-written vision, purpose and set of principles can galvanize a team and get everyone pointed in the same direction. While not copywriters by trade, we regularly use skilled writing to help teams and organizations focus, with crisply statements that are easy to remember, free of jargon, and speak to both head and heart.
In a world where new competitors come out of nowhere (or a seemingly unrelated industry), and it's harder than ever to really understand what your customers want, virtually every organization today is facing what are known as "wicked problems". These highly complex and ambiguous problems were the starting point for the book Innovation X, by The Enigma Bureau's founder, Adam Richardson, published by Wiley and available on Amazon..
Praise for Innovation X
Want your product or service to succeed? Read this book.
Don Norman
Innovation X offers a smart, powerful framework for companies large and small to create and advance not just an innovation culture, but an innovation strategy.
Daniel Pink